The Textiles and Clothing Museum
Department of Apparel, Educational Studies, and Hospitality Management
Department of Apparel, Educational Studies, and Hospitality Management The Textiles and Clothing Museum is an interactive learning environment dedicated to the concepts of visual and object-based learning. Within the museum are the Mary Alice Gallery named in honor of Mary Alice Anderson Reinhardt, the Textiles and Clothing Conservation Laboratory named in honor of Donna Rae Danielson, and the Textiles and Clothing Collection Storage named in honor of Bertha and Edward Waldee. The Museum collects, documents, preserves, interprets, and exhibits the teaching collection. The collection is accessible to students, scholars and academic researchers, and is also made available to public audiences through exhibitions and programming.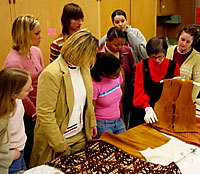 The collection
The Textiles and Clothing Collection consists of about 9,500 pieces from around the world. Some of the oldest items are from the early 1800s.The estimated value of the collection, begun by an Iowa State faculty member Olive Settles in 1923, is from $2 to $3 million. Items from the collection are used in many textiles and clothing courses including history of 20th century fashion, survey of European and American dress, and many design classes. Student learning is greatly enhanced when students can see and touch collection pieces.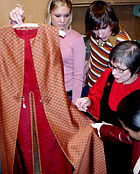 The Mary Alice Gallery
The Mary Alice Gallery features student and faculty work and showcases collection objects in interpretive exhibits. There are approximately five exhibits per year, including the annual summer exhibit featuring design winners from the annual student-run fashion show. Students and faculty curate and install all of the exhibits. Mary Alice was an alumna of the Textiles and Clothing program (1949) and her family funded the gallery in her honor. It has a total of 504 square feet, with a dramatically curved wall of glass forming a large display area.
The Donna Rae Danielson Conservation Lab
The conservation lab is a 375 square foot specialized laboratory and classroom where pieces from the collection are cared for and preservation methods taught. Professor Danielson received her B.S. (1957) and M.S. (1961) from Iowa State University and joined the Textiles and Clothing faculty in 1964. Danielson retired in 1991, and died in December 2006. The 2009-2010 Donna Rae Danielson Professor is Dr. Sara Kadolph.
The Bertha & Edward Waldee Storage Facility
The Waldee Storage Facility is an environmentally controlled 700 square foot space in which current conservation standards are practiced. Dr. Edward Waldee received his BS (1937) and PhD (1942) in plant pathology from Iowa State University and worked abroad in international agriculture development. The Waldees gave the collection numerous examples of Asian and Middle Eastern ethnic textiles collected from their travels. Their estate provided funding for the state-of-the-art storage facility. Most of the Waldee textile and clothing items were given while the couple was still alive, while some items came into the collection upon their death.
More information
For more information on the Textiles and Clothing Museum, contact tcmuseum@iastate.edu, Department of AESHM, 31 MacKay Hall, Iowa State University, Ames, IA 50011-5021, 515-294-7474, fax: 515-294-6364. More about: Apparel, Educational Studies, and Hospitality Management Department