Morrill Hall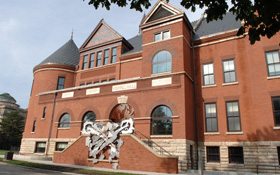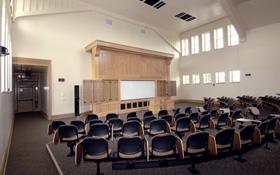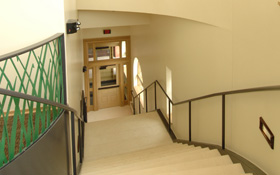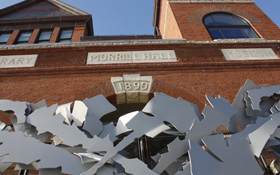 Thousands of donors pitched in to save aging Morrill Hall. The results of the ensuing renovation are spectacular.
Saving a cherished landmark
One of the largest grassroots fund-raising efforts in Iowa State history brought Morrill Hall from the brink of demolition to the beautifully restored landmark that it is today. Built in 1890, the aging building had fallen into disrepair and disuse in the early 2000s. In 2002, President Geogory Geoffroy announced a private campaign to raise funds to save and restore building. Lyle and Nancy Campbell led the way, co-chairing the campaign and providing a leadership gift. More than 3,300 donors followed their lead; gifts accounted for $7.4 million of the $10.3 million renovation costs. The newly refurbished Morrill Hall reopened in 2007.
What's inside
Third floor: Center for Excellence in Learning and Teaching (CELT), Learning Communities
Second floor: CELT workshop room, two university classrooms
First floor: art museum gallery, textiles and clothing gallery, university classroom
Ground floor: art museum gallery, art museum storage, textiles and clothing collection storage, textiles conservation lab
Certifiably green
In 2008, the newly renovated Morrill Hall became the first building at an Iowa regent institution to achieve LEED® certification and the seventh building in Iowa with the designation. It is one of just a handful of LEED®-certified buildings in the country that also are on the National Register of Historic Places. LEED® is a nationally accepted benchmark for the design, construction and operation of high-performance sustainable buildings.
History
It's been a chapel, library, museum and gym, as well as home to bats, bees and one camel. Here's a lighthearted history of Morrill Hall.
Check out the Morrill Hall kiosk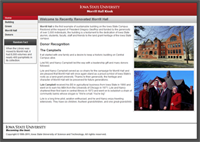 A kiosk providing more information on Morrill Hall soon will be available. If you're in the vicinity, stop by Morrill Hall to see the beautiful new building and check out the kiosk. Or check out this online version of the kiosk.