Center for Excellence in Learning and Teaching
We all remember our great teachers -- the ones who inspired, who made us work, who taught things that stuck with us long after final exams. Great teachers -- and great opportunities for student learning -- are at the heart of Iowa State's Center for Excellence in Learning and Teaching.
The center helps Iowa State's teachers improve their art in a variety of ways -- by comparing notes with colleagues, experimenting with teaching techniques, consulting on course design and using new technologies in the classroom.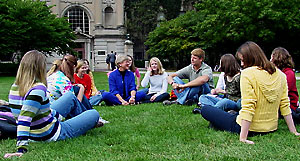 The busy center, currently in tight quarters, will be moved to Morrill Hall once the building has been renovated. The center will share space in Morrill with an art museum, and a proposed Center for Visual Learning in Texiles and Clothing.
"Morrill Hall, on central campus, is an excellent home for the Center for Excellence in Learning and Teaching," says center director Corly Brooke. "In Morrill Hall, the center will be highly visible and able to weave a new focus on teaching into the fabric of the university. Morrill Hall will be a central gathering space, like a front porch, for faculty and students to share."
About the center
Teaching is challenging and complex work that requires collaboration, experimentation, discussion and access to information. The Center for Excellence in Learning and Teaching uses all of these methods to help Iowa State teachers improve their skills. Among center activities are:
Regular faculty forums, where faculty get together to share teaching ideas and experiences with each other
Seminars and workshops on new and innovative methods in teaching, learning and faculty development
Funding for faculty to experiment with teaching and learning methods and develop course work
Individual consultations with faculty on how to design courses and improve course materials, use technology in the classroom, improve their classroom presentations and more
A bimonthly newsletter for all Iowa State faculty and a "teaching tip" e-mailed to faculty subscribers
A library full of resources on teaching and learning
More information
For more information on the Center for Excellence in Learning and Teaching, see the center Web site or contact the center at (515) 294-2906, celt@iastate.edu.